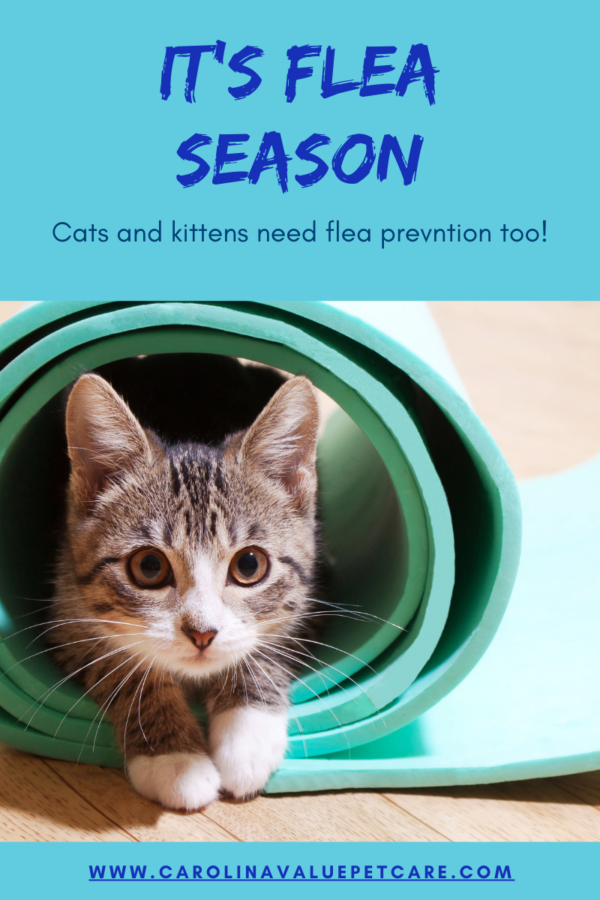 It's that time of year again ! No, no, no, not football season (well, OK, there is that !) … not time to begin Christmas shopping … not time to pull sweaters out of the closet and start raking leaves (not yet, but I can't wait !).
It's Flea Season !
Yep, it's here. It likely comes as a surprise to the majority of pet parents, but in North and South Carolina, the peak season for fleas is right now: Autumn. And fleas will continue to be a problem until we get a hard freeze, which usually occurs in December. Once we get a killing frost, that would effectively eliminate fleas outdoors. However, keep in mind that fleas living inside a home are pretty happy when the temperature hovers around 65 to 75 degrees.
While we commonly give more attention to preventing fleas on our dogs, don't forget your kitties as well ! Cats can be a magnet for fleas just as much as dogs are.
If you have dogs, they routinely go outdoors where they can pick up fleas and bring them into the house and pass them onto your kitties, even if your cats never go outside.
It can be pretty tricky to spot fleas on a cat for a couple for reasons. For one thing, cats have fairly thick hair, even if it's not a long coat of fur. But more uniquely, cats tend to groom themselves frequently (dogs do not), so if they have any fleas on them, they will often ingest the fleas during the act of licking and cleaning themselves.
If you are seeing fleas on ANY of your pets, I strongly encourage you to treat ALL your pets for fleas in order to eliminate the fleas and prevent an infestation.
For flea control in Cats, we have extremely effective and SAFE topical products (which are applied to the skin on the back of the neck): Bravecto (2 months of protection) … Revolution Plus (1 month of protection) and Activyl (one month of protection). And while it only lasts for 24 hrs for flea control, we also have Capstar tablets (given by mouth) available.
Please do not waste your money using Frontline (a 30+ year old product) or Pet Armor (generic Frontline) which do not work anymore … or flea collars (other than Seresto).
Let us know how we can help !